CSP+
CSP+ is an abbreviation for Control & Communication System Profile Plus. It is a profile that describes information (network parameter information, memory map, etc.) required for the startup, operation and maintenance of CC-Link Family compatible devices. As CSP+ has integrated profile specifications, all CC-Link Family protocols can be described in the same format. By using CSP+, CC-Link Family users can easily set parameters for each model with the same engineering tool.
1. Increased complexity of functions
Previously, most devices were single-function with few settings, but the number of high-performance devices capable of employing complex settings and control has recently increased.
2. Diversification of the applications of engineering tools
The uses of engineering tools have diversified to encompass applications including diagnostics and energy management in addition to device input and output and parameter-setting.
3. Diversification of networks
The number of protocols for the connection of various devices to networks has increased, with CC-Link IE Field Network, SLMP, etc. making their appearance in addition to CC-Link.
Against this background, CSP+ has been newly defined as a profile specification for CC-Link Family-compatible devices.
CSP+ application image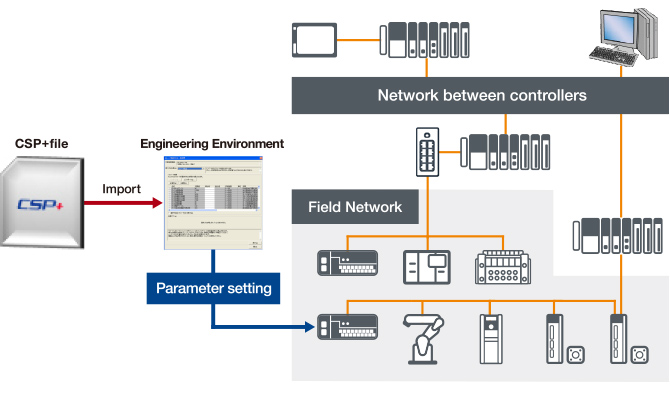 CSP+ for Machine
CLPA's activity with the OPC Foundation aims to take this one step further by expanding our existing CSP+ device profile technology to apply to whole machines and production lines through connection to edge processing devices. In November 2017, The CSP+ for Machine OPC UA Companion Specification was released. This will allow unification of the interfaces between machines and IT systems at production sites, contributing to reduction of engineering costs in order to realize high-level production in smart factories.
CSP+ for Machine Overview
The CSP+ file for machine is described in the XML format. The file contains the following information related to the machine.
Information related to the machine specifications
Machine information to be released for application software
Information related to data to be acquired from the machine and its acquisition method
Linked information between machine information and machine data
Image of Application from CSP+ for Machine to OPC UA Server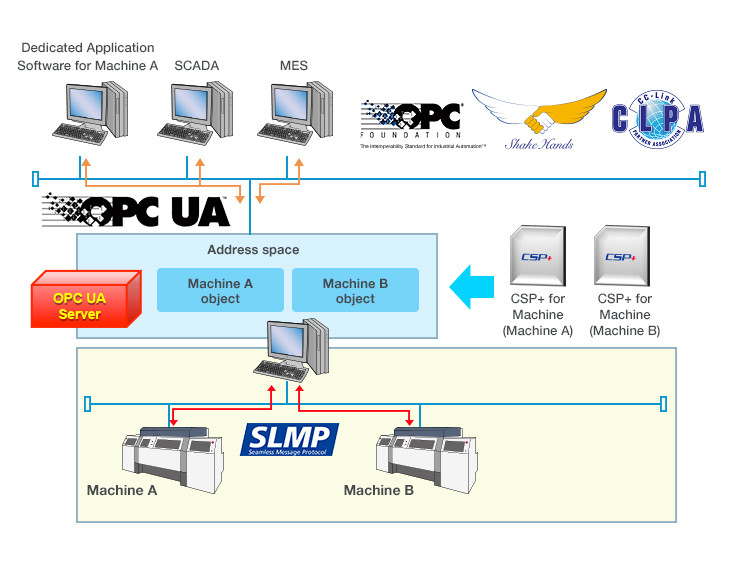 CC-Link Partner Association (CLPA)
Members Site
Login