CC-Link
CC-Link obtains SEMI certification
The open field network as a global standard

CC-Link is the high-speed field network able to simultaneously handle both control and information data. With the high communication speed of 10 Mbps, CC-Link can achieve the maximum transmission distance of 100 meters and connect to 64 stations.
High-speed and Highly Deterministic Input-Output Response
In addition to high-speed 10 Mbps operation, CC-Link is extremely deterministic. Being able to rely on a predictable, unvarying I/O response allows system designers to provide reliable, real-time control.
Link scan time (at communication speed of 10 Mbps)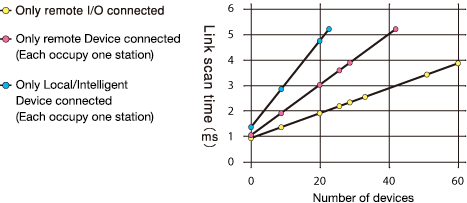 Efficiency through Reduced Wiring
CC-Link significantly reduces the amount of control and power wiring needed in today's complex production lines. It reduces wiring and installation costs, minimizes the work needed to accomplish the wiring and drastically improves maintenance operations.

CC-Link Provides Compatibility between Multiple Vendor Products
CLPA provides a "memory mapped profile" that defines data for each product type. This definition includes the control signal and data layout (addressing). Multiple vendors can develop CC-Link compatible products to match this "profile". Users are then able to easily change from one product brand to another without needing to change connections or control programs.
Memory mapped profile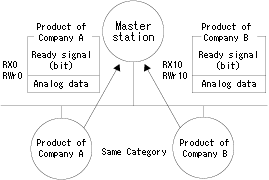 Easy to Extend Transmission Distance
The maximum overall cable length is 100 meters when 10 Mbps is selected. This length can be extended to 1.2 km when the network speed is 156 Kbps. The use of cable repeaters and optical repeaters allows even greater distances to be covered. CC-Link supports large-scale applications and reduces the work needed for wiring and device installation.
CC-Link transmission distance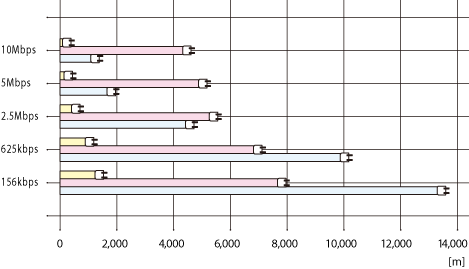 CC-Link Realizes High Reliability with RAS Function.
The RAS (Reliability, Availability, and Serviceability) function is another of CC-Link features. Functions including stand-by master, detaching slave station, automatic return and testing and monitoring provide high reliability net-work system and allow the system down time to minimize.
Stand-by master function
Using CC-Link, a stand-by master station can assume control of network communications in the event that the primary master station becomes inoperable.

Slave station detaching function
In the event that a slave station stops communicating, CC-Link allows communication to continue with all other stations.

Automatic return function
CC-Link automatically returns a disconnected station to full network operation when the fault is corrected.

Testing and monitoring function
This function monitors data link status, and conducts a series of hardware and circuit tests.
CC-Link version description
| | |
| --- | --- |
| Version 1 | Original release of CC-Link |
| Version 1.10 | This version allowed more convenient inter-station cable lengths of 20 cm or more. This specification change affects network devices and network cables. |
| Version 2.0 (V2) | This version provides an 8-fold increase in the volume of data communication in the system and per station. |
CC-Link cable versions
Cable Version 1.10 is indicated on the cable jacket for Version 1.10 compatible cable.
Instructions for use
Cable Version 1.10 is recommended for use with Version 1.10 or Version 2.00 products
If the entire system consists of Version 1.10 or Version 2.0 products, and uses cable Version 1.10, then the required length of each inter-station cable is 20 cm or more.
Different brand cables can be used within a single system.
(See CC-Link Ver. 1.10 specification for Inter-station cable length and maximum overall cable extension length.)
If a system uses either Version 1.00 devices and/or Cable Version 1.00 cable, then follow the CC-Link Version 1.00 specification for inter-station cable length and maximum overall cable extension length.
CC-Link Configuration
Flexibility in constructing production lines, using various partner manufacturer products.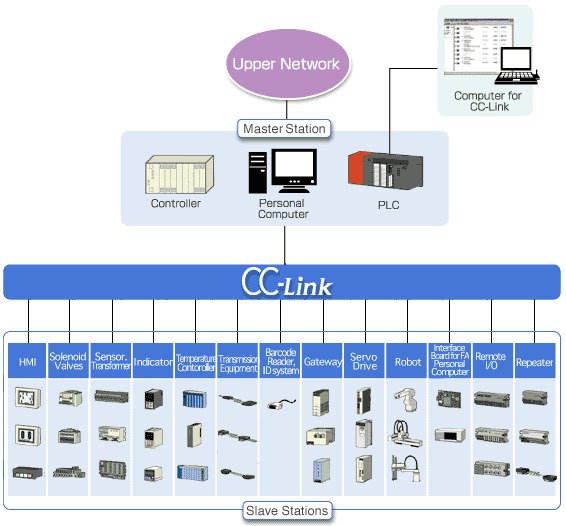 CC-Link Partner Association (CLPA)
Members Site
Login