CC-Link IE Field
Ultra-high-speed ... supremely useable ... seamless ... and fully compatible with the Ethernet standards
We're bringing the benefits of "Gigabit & Ethernet " to the field level!
A high-speed and high-capacity network able to cope with a mixture of device control data and management data. In addition, distributed control, I/O control, motion control, energy management and safety functions can all be seamlessly accomodated on a single network.
Ultra High-speed
Gigabit transmission and real-time protocol enables easy and reliable data communication and remote I/O communication independent of transmission delay.
High-speed communication for the management information of the devices and trace information as well as the transmission of control data.

Easy Networking
Flexible network topology (ring, line, star, or a combination of line and star are all possible)
The network shared memory allows communication among controllers and field devices.
Easy configuration and network diagnosis enables a total engineering cost reduction from system start-up to maintenance.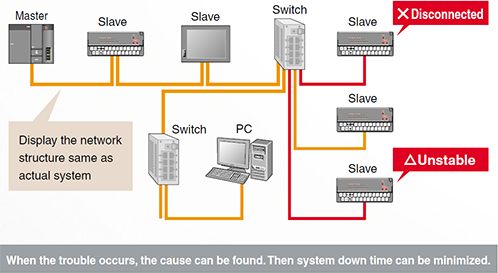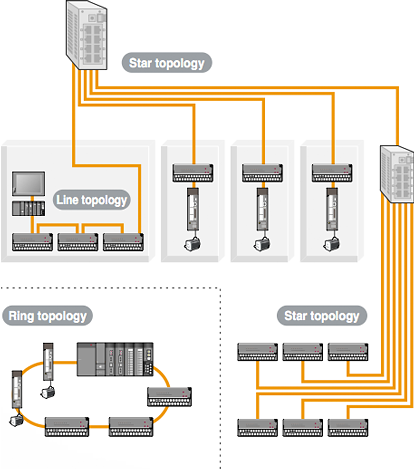 Seamless Networking
CC-Link IE Field can access field devices directly by remote engineering tools, across the network hierarchy.
Devices can be monitored or configured from anywhere in the network, which increases the engineering efficiency with remote management.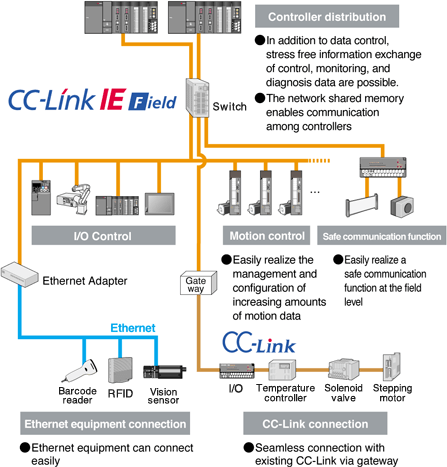 Ethernet Cable and Connector
Since the physical layer and data link of the CC-Link IE Field Network applies standard Ethernet technology, commercial cables, adapters and switches can be used.
The availability of materials and selectivity of equipment for the network installation and adjustment are enhanced.
Ethernet Cable

RJ-45 Connector

Ethernet Switch
CC-Link Partner
Association (CLPA)
Members Site
Login