Building Monitoring System
Introduction of CC-Link has enabled high-speed communication and drastically reduced actual wiring.
System Configuration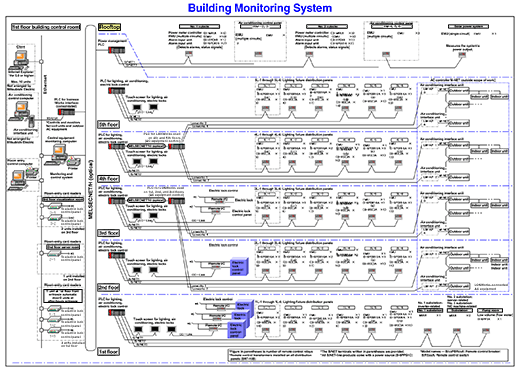 Enlarged figure available here (PDF: 330KB)
CC-Link is used for I/O and control of touch panels, electronic locks, and more.
Results
A system capable of high-speed communication.

CC-Link has a rapid response time that makes it ideal for controlling touch panels and other HMI devices requiring high-speed communication.

Reduce the amount of wiring.

Reduced wiring methods drastically reduce actual wiring.

Minimize the number of issues I need to consider.

Flexible wiring means that the wiring route can be freely chosen without needing to consider much other than noise countermeasures.

Design and work with greater ease.

Changes or additions to the I/O can be made easily, making both design and working easier.
Source: Mitsubishi Electric System & Service Co., Ltd.
CC-Link Partner Association (CLPA)
Members Site
Login