Vehicle Press Line System
Drastically reduced system design and system startup work hours.
System Configuration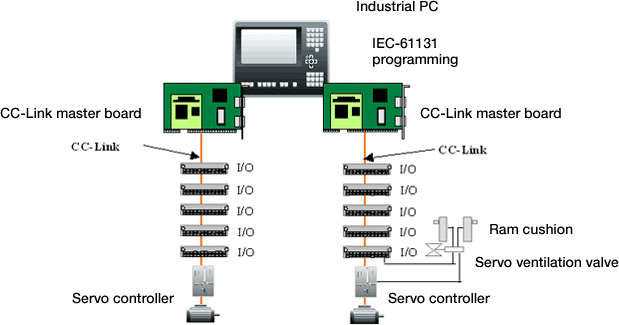 This new approach to press control is based on the concepts of modularization and decentralization. Using PC based control along with CC-Link achieves the required faster system startup and higher productivity, easier integrated operations, and flexible support for system changes. The openness of control and networks is being further promoted across technical control technical fields, with SCADA software and software PLCs being introduced to reduce development costs. A panel computer is located in a cabinet immediately beside the press line, controlling the pressing of up to 450 tons per hour of body parts. A CC-Link master board is built into the panel computer, and software PLCs (IEC-61131 programming) are used for press control connecting 2 CC-Link systems. 1 system is used mainly as a sheet metal material handling control system. The other system, used to control the press, is equipped with Digital-IO, DA/AD converters, and encoders, allowing control to be conducted while verifying press angle and position. Once the angle is finalized, the 2 systems synchronize with each other to control the charging and discharging of the press.
Results
(1)

Structuring the press controller host with CC-Link has allowed construction of a decentralized production line, achieving a system with distributed load on each control system.

(2)

The shared CC-Link memory makes it possible to modularize the press line, drastically reducing the work hours required for system design and startup.

(3)

1 panel computer can directly exchange monitoring data to reduce the cost of hardware.

(4)

The 10Mbps transmission clock achieves short cycle time and data transmission time, resulting in a high-speed press line.

(5)

Can be realized using multi-vendor specifications for both the software and hardware.
Source: CLPA Advisor Nishikido
CC-Link Partner Association (CLPA)
Members Site
Login