Vehicle Body Manufacturing Welding Line
Each device is separated into blocks to make interfacing easier.
System Configuration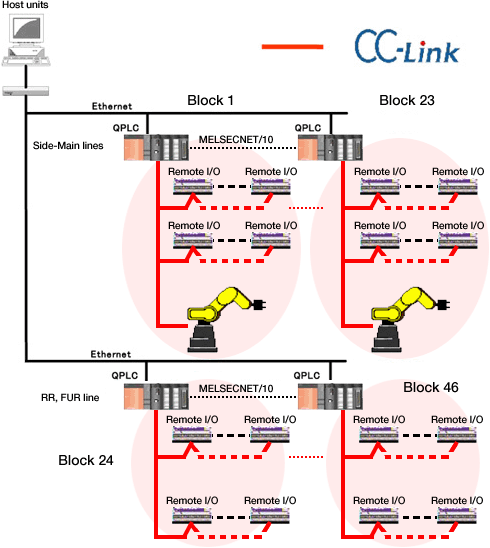 This is an assembly line using arc welding robots and spot welding robots for vehicle bodies.
PLC: 46 units, each with 7 or 8 CC-Link master units attached
Total remote I/O units: 2,000 to 3,000 units (entire system)
Results
Minimal amount of wiring possible to shorten construction time.

Reduces wiring measures drastically decrease the actual wiring, reducing raw expenses. Furthermore, separating each device into blocks makes interfacing easier, substantially shortening the construction time required for on-site equipment installation and wiring.

Shortened processing time.

A high-speed network is adopted for the remote I/O wiring, increasing the efficiency of transport control and shortening processing time.
Source: Mitsubishi Electric System & Service Co., Ltd.
CC-Link Partner Association (CLPA)
Members Site
Login