Conformance Test
All of the CC-Link certified products sold by partner-manufacturers have passed conformance tests to ensure compatibility.
About Conformance Test
By conducting the conformance test, you can ...
ensure the communication reliability of your product
easily design system configuration where products of different manufacturers and models are connected.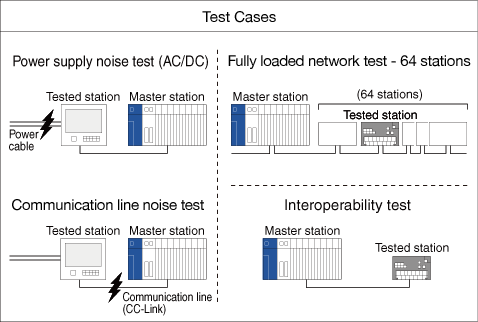 *The conformance test is to ensure that the product meets the common specification of CC-Link.
The conformance test is not intended to ensure the performance and quality of the product itself.
Conformance Testing Process
Read the regulations for the conformance test.

Request CLPA for the test specification that applies to the developed product.

Perform the test in-house as specified in the test specification.

Apply for the conformance test, using the prescribed request form.

A test date is informed by CLPA.

Send CLPA the product and a copy of the in-house test report by the date scheduled for the start of the test.

Test starts.

A test result is reported.

A certificate of conformance and a test report are sent to the applicant.
Conformance Test Fee
■CC-Link
*Prices shown do not include tax.
Membership category
Regular
member
Executive
member
Board
member
Conformance test fee
(per device)
CC-Link master/local/intelligent device stations CC-Link IE Control control/normal station CC-Link IE Field master/local/intelligent device station
-
-
Included in annual dues
CC-Link remote device/I/O station CC-Link/LT master/slave station Cable and others
-
-
Product for software certification SLMP (Seamless Message Protocol) -compatible product
-
-
Recommended product test fee (per model)
CC-Link IE Control, CC-Link IE Field Recommended network wiring parts
-
-
Note: The price list is applicable to only Japan. Please ask your local CLPA office for the price in your country.